Mac Mind Map Software
When it comes to powerful Mac Mind Map software, MindView Mac is a must have for serious mind mapping users. Powered by its superior MS Office integration and 5 interchangeable views, this award winning mind mapping software transforms standard brainstorming sessions into visually driven presentations.
Use Mac Mind Map Software to Enhance Your Brainstorming Session
1. Export mind map to Microsoft® Word, Microsoft® PowerPoint, PDF or HTML
2. Use focus mode to zoom-in or zoom-out of specific portions of your mind map
3. Show off your mind map with Presentation Mode
4. Display project plans as an easy to review timeline
5. Attach files and sound notes to mind map branches
6. Ready-to-use professional templates
Mac Mind Map with Premier MS Office Integration
With its Microsoft Office integration, MindView Mac allows you to turn your mind map into a professional Word® document or PowerPoint® presentation. Want to turn your Word or PowerPoint document into a mind map? With MindView Mac, you can! Simply import your file into MindView Mac and your paragraph or slide structure will determine the branch layout!
MindView Mac Focus Mode and Presentation Mode
Whether it is for an individual or an entire audience, MindView Mac's focus mode and presentation mode empowers users to view their mind map clearly. With focus mode, users can zoom-in to a particular portion of your mind map or zoom-out to display the entire mind map in one viewing. MindView Mac's presentation mode allows you to focus on one branch at a time in a linear display. Both focus mode and presentation mode provide a professional way to review and share your mind map.
Mac Mind Map Software with Timeline View
The timeline view is another reason why MindView Mac stands above other mac mind mapping software. Once you add dates and times to map branches, effortlessly switch to the Timeline view and reveal all of your information in a horizontal time axis. Popular uses for the Timeline include displaying event history and project plans.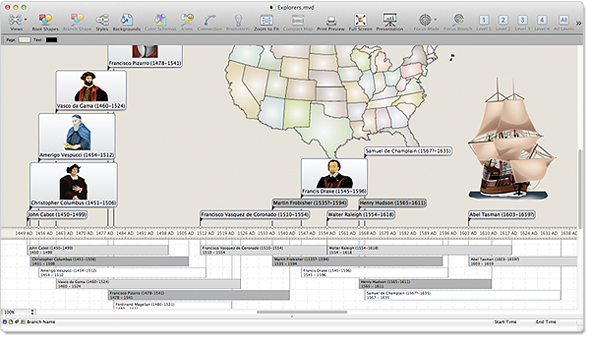 Attach Files and Sound Notes to Mind Map Branches
Include all of the information you need in a mind map with MindView Mac. The mac mind mapping software allows you to attach text notes, documents, pictures, videos, sounds, hyperlinks and more to your mind map branches. With these features, there is no limit to what your mind map can contain!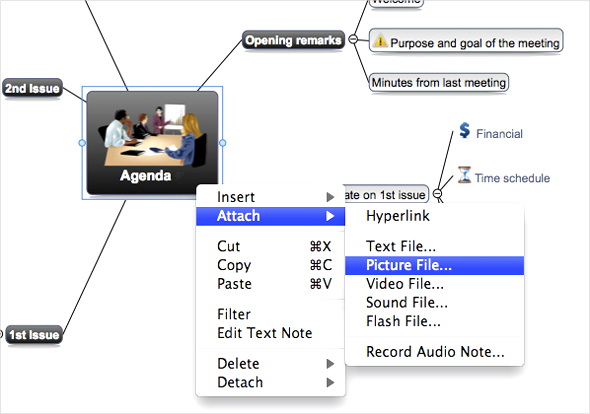 Ready-to-Use Professional Templates
Create your Mind Map by using one of MindView Mac's various templates, and easily customize it to meet your specific needs. With so many polished templates to choose from, it is no wonder why MindView Mac is a leader in Mac Mind Mapping software.

Related Links: • Mind Mapping Software • Mind Map Software • Mind Mapping • Mind Mapping Software Mac • Mind Mapping Software Online • Mind Mapping • Mind Mapping Free • Mind Mapping Program • Mind Mapping Examples • Shared Workspace • Mind Mapping Software Review
back to top